According to the Norwegian law concerning salmon, everyone that intends to catch salmon, sea trout and arctic char, are obliged to declare their catch. This means that everyone who has purchased a fishing license are obliged to submit a precise report of the catch, even if the person did not catch any fish or did not fish at all.
The declared data is used for statistical purposes. Having an accurate account of the fish caught in a river provides an important foundation for regulating the rules and limitations to prevent overfishing and exhaustion of the population. Having an accurate account of your own catch is also in your best interest as a fisherman.
The rapports are treated confidentially and all personal information are subject to confidentiality. The data will not be used in a way that makes it possible to identify the fisherman.
Report your catch here: https://tana.lakseelv.no/
Guidence for electroninc catch report:
Use your Fisherman ID or phone number to log in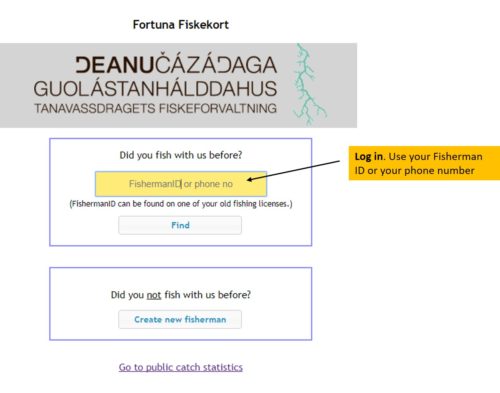 2) Go to "report catch/no catch"
3) Add information about yout catch

4) Confirm that the license are reported, and save the information

* If you were fishing in the Tana river mouth zone you may report all the fish (e.g. sea trout) gathered.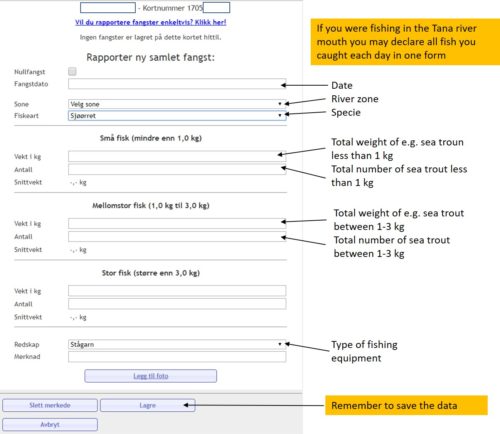 If you have problem reporting catch, please contact the administration in Tana River Fish Management at: post@tanafisk.no or phone (+47) 906 85 088
Extra fee
Anglers that don´t declare their catch, have to pay an extra fee of 300 NOK next time they would like to buy a fishing license in the Tana Watercourse.